Awesome Slider Responsive WordPress Plugin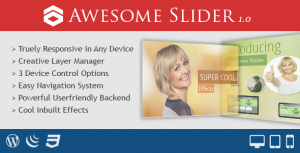 Awesome slider is a truly responsive WordPress plugin. Allows user to create sliders using some easy steps.
It comes with 3 level device control where different settings can be applied for different devices. Disable element or change element property on a particular device. So the slider is properly visible and readable in all devices.
Drag & Drop and Resizable – Each element is draggable and resizable with aspect ratio for easy placement. Which gives the freedom to instantly see what you are doing, and no knowledge of codes is required, and furthermore you are not bound down by any redesigned templates – complete freedom in a visual-based environment. More Info